Mobile Elektronic Construction Diary
sfirion.journal App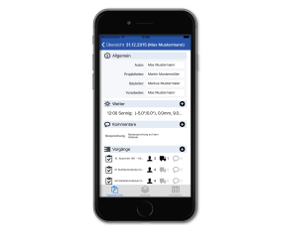 The sfirion journal App for iOS and Android is your mobile construction diary. It is available in addition to our sfirion journal
Server
. All Information will subsequently be synchronized in a single database which forms a solid basis for reliable evaluations.


General
Nevertheless, the success of your construction project is dependent on the continuous structured documentation of construction progress.
Maintaining electronic daily reports provides essential advantages for all project participants, especially for project management. All project actual data can be continuously recorded in sfirion journal (electronic daily reports) and therefore, reliable daily progress reports can be created.
Based on a schedule you record:
workers and equipment
degrees of completion
performed works
special events
obstructions and difficulties
general day information like weather
pictures and photos
The possibility of working offline allows you to record data independent of location, time and internet connection, e.g. also in the basement or in a tunnel. All Information will subsequently be synchronized in a single database which forms a solid basis for reliable evaluations
Your benefit – Your project at one glance
record significant project data independent of location, time and internet connection
use a wide range of evaluations and reports to get a target-oriented project overview
optimize resource planning by daily recording the current performance status
secure your claims due to disturbances by complete project documentation
System Requirements
iPhone / iPad
Android
Min. Android 5.0 (Lollipop)