Elektronic Construction Diary
sfirion.journal Server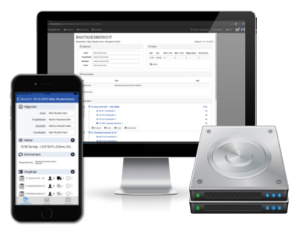 » record mobile » report structured » evaluate reliable
With sfirion journal Server you get a central unit for the electronic documentation of your projects. Create your reports via Browser or
App
and evaluate the reported data in a structured way. You can include the application in your company network or make use of our hosting offer.
Purchase
Request Demo
General
Nevertheless, the success of your construction project is dependent on the continuous structured documentation of construction progress.
Maintaining electronic daily reports provides essential advantages for all project participants, especially for project management. All project actual data can be continuously recorded in sfirion journal (electronic daily reports) and therefore, reliable daily progress reports can be created.
The process oriented collection of data, on the basis of the time schedule, allows project progress assessment and targeted control of billing at any date. In addition, the documented use of resources and performance progress laid the foundation for a continuous schedule update.
sfirion journal also allows:
optimal resource planning by daily accurate recording of the performance status.
daily tracking of actual data as a basis for continuous target-actual comparisons.
secure your claims due to disturbances by complete documentation.
For future projects, the knowledge gained by sfirion journal can be used. To evaluate and optimize hereby the offers and orders, or to make use of relevant data as a sample calculation for similar projects.
Work via Browser
Beside our Apps you can work on sfirion journal via Browser. Also the user and project administration is done by the web interface. sfirion.journal Server supports nearly all common browsers.
Technique
sfirion.journal Server is a web application for Windows Server based in ASP.NET and can be accessed by a browser, table/smartphone (iOS and Android) and our Office Addins. All your reports are saved on the server and can be reached from the internet or via VPN, depending on your preferations and server setup.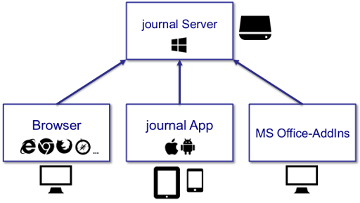 For Developers
sfirion.journal has a programming interface (REST) and a corresponding easy to use .NET class library for connecting your applications and tools with sfirion.journal. The data is stored server side in form of XML files, what makes them easy to be interpreted. This NoSQL architecture works without any third party database.

Security
We set a high value on data security. It is possible to provide the application with an SSL Encryption to ansure a secure communication between the devices. It is also possible to set up individual user rights. If you don't want your application to be accessable through the internet, you can also work via VPN.

System Requirements
Minimum
2 GB RAM
2 Ghz Dual Core Prozessor
10 GB free Disk Space *
OS: Windows Server 2008 R2 or Windows 7/8/10 (with IIS Express)
LAN Connection
Recommended
4 GB RAM or more
2 Ghz Quad Core Prozessor
100 GB free Disk Space *
OS: Windows Server 2008/2012 R2
LAN Connection, Internet with min. 10 Mbit/s (Upload and Download)
* Depending on usage: size/amount of projects and media files.